At Shri Sabhari Smelters Pvt Ltd, we pride ourselves on being a leading manufacturer of Pure Lead Products. We go to great lengths to ensure that all of our products are of the highest quality, checking all measures before they are used in the manufacturing process. We also use the latest technology to ensure that each Lead Ingot has a smooth, dross-free surface. We dispatch our products in bundles of 42 ingots, which are then striped.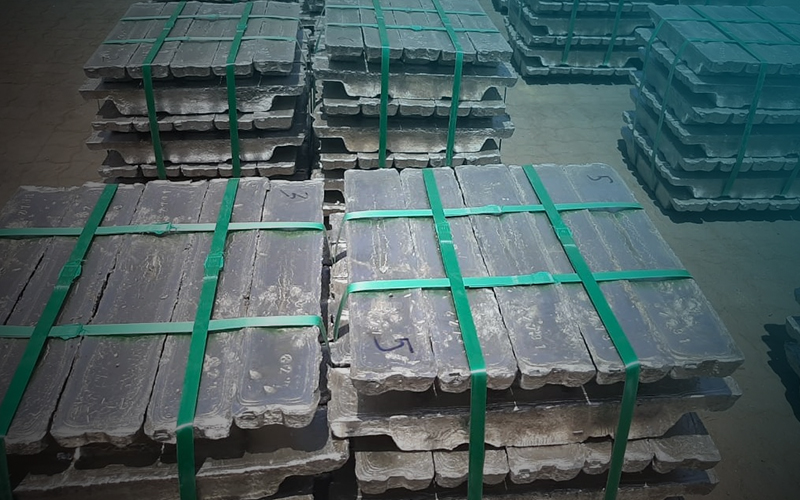 As the market leaders in Pure Lead, We understand the importance of catering to the specific and diverse Industrial Requirements of our clients. This is why we have a team of well-trained engineers who monitor the entire manufacturing process from start to finish, to create Refined Lead Ingots that are flexible, durable and flawless.
We have a wealth of experience in the Lead Industry, and We are always looking for ways to increase our range of high-quality Pure Lead Products to offer our clients. We are dedicated to providing them with effective solutions for their production processes.
Composition of Refined Lead / Pure Lead
Elements Symbol Composition in %
ALUMINIUM(Al) 0.0010% (Max)
ANTIMONY(Sb) 0.0005% (Max)
ARSENIC(As) 0.0005% (Max)
BISMUTH(Bi) 0.0150% (Max)
CADMIUM(Cd) 0.0005% (Max)
CALCIUM(Ca) 0.0010% (Max)
COPPER(Cu) 0.0010% (Max)
IRON(Fe) 0.0010% (Max)
NICKEL(Ni) 0.0005% (Max)
SELENIUM(Se) 0.0005% (Max)
SILVER(Ag) 0.0025% (Max)
SULPHUR(S) 0.0010% (Max)
TELURIUM(Te)0.0005% (Max)
TIN(Sn) 0.0005% (Max)
ZINC(Zn) 0.0010% (Max)
LEAD(Pb) 99.98++%
General FAQ
We typically pack our products in either neutral white or wooden boxes or according to our customer's specific requirements.
After we receive your initial payment, it will usually take 5 to 7 days for your order to be processed and delivered. The delivery time will depend on the ordered items and how many.
Yes, we can produce according to your samples or technical drawings.
DOWNLOADS
View our 2022-23 brochure & spec for an easy to read guide on all of the products we sell & buy.